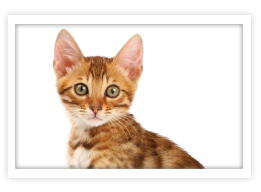 Bengal
These leopard-like felines are very affectionate, playful, water loving, and ideal for busy households.
Breed Overview
This human-made hybrid of the Asian leopard cat and a domestic cat originated in the 1900s in Japan, but it didn't become a recognized breed until the 1980s. These playful and affectionate cats are very leopard like and have long legs, leopard like markings, and pronounced whiskers. They enjoy water, are agile and athletic. These intelligent felines are relatively independent and they get along with other pets and children. They are ideal for active and busy families, experienced cat owners, and household containing other pets, including dogs. They enjoy being affectionate with their owners and love attention. Grooming is very minimal.
Breed Characteristics
Grooming requirements:
1 = little grooming - 5 = much grooming
Energy level:
1 = low energy - 5 = high energy
Friendliness toward strangers:
1 = shy - 5 = very friendly
Ease of training:
1 = difficult - 5 = easy
Affection toward owners:
1 = independent - 5 = very affectionate
Breed Details & Traits
Body: Long and substantial, muscular
Coat: Short to medium length, thick, luxurious
Breed Traits
Active, Alert, Intelligent,
Similar Breeds
Bengal
Bengal Discussions
Share your thoughts and experiences, ask questions, or just show your love for the Bengal breed here!
Pet Health Information

Helpful Links
Articles and Resources