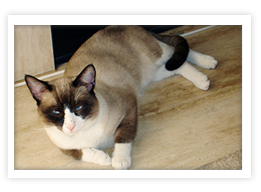 Snowshoe
This cat is affectionate, intelligent, and easily trainable, as well as compatible with children and other pets.
Breed Overview
Originating in the United States during the 1960s, the Snowshoe cat breed was a mix of Siamese and American Shorthaired cats. These cats are affectionate, enjoy being petted and enjoy showing their love in return. They are very intelligent and can be taught to do tricks. Snowshoes are also fascinated with water and have great compatibility with children and other pets. They are ideal for families with children and pets, people who want a lap cat, and first-time cat owners. Combing their coats one to two times per week is required for upkeep.
Breed Characteristics
Grooming requirements:
1 = little grooming - 5 = much grooming
Energy level:
1 = low energy - 5 = high energy
Friendliness toward strangers:
1 = shy - 5 = very friendly
Ease of training:
1 = difficult - 5 = easy
Affection toward owners:
1 = independent - 5 = very affectionate
Breed Details & Traits
Body: Semi-foreign, long, firm, medium-sized
Coat: Short to medium short, close-lying
Breed Traits
Easygoing, Extroverted, Sociable,
Health Concerns
Though the Snowshoe is susceptible to common ailments to which all cats are susceptible, there are no major known health concerns for Snowshoe cats.
Common Health Concerns for Snowshoe:
Less Common Concerns for Snowshoe:
Return to Trupanion Pet Health Guide
Similar Breeds
Snowshoe
Snowshoe Discussions
Share your thoughts and experiences, ask questions, or just show your love for the Snowshoe breed here!
Pet Health Information

Helpful Links
Articles and Resources