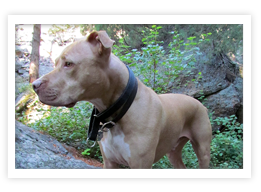 American Pit Bull Terrier
This dog is devoted and gets along well with children. It is protective so it may be wary of strangers and strange dogs.
Breed Overview
This American breed was developed from bull and terrier breeds. These dogs are excellent for guarding, herding, and hunting rats. As hard working as they are, they are loyal, protective of their families, excellent with children, enjoy playing, and can handle rough play. With proper training and exercise, these dogs will be tranquil and obedient dogs, making them great companions. Those living alone, families with older children, and outdoorsy types are usually ideal owners. They require exercise daily, and grooming their short, smooth hair is easy. Brushing regularly with a firm bristly brush is best, and bathing is needed when necessary.
Breed Characteristics
Grooming requirements:
1 = little grooming - 5 = much grooming
Energy level:
1 = low energy - 5 = high energy
Friendliness toward strangers:
1 = shy - 5 = very friendly
Ease of training:
1 = difficult - 5 = easy
Affection toward owners:
1 = independent - 5 = very affectionate
Breed Details & Traits
Height: 15-20"
Weight: 20-55lb
Lifespan: as long as 12 years
Breed Traits
Companionate , Loyal, Strong,
American Pit Bull Terrier
American Pit Bull Terrier Discussions
Share your thoughts and experiences, ask questions, or just show your love for the American Pit Bull Terrier breed here!
Pet Health Information

Helpful Links
Articles and Resources