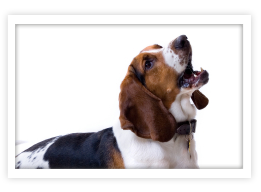 Basset Hound
Though mellow and easygoing, this dog needs its daily exercise. It gets along with children and other pets.
Breed Overview
Originating in France, this hound dates back to the 1500s. Used for badger hunting and trailing rabbits, this short legged canine is easy-going, good natured, and gets along with children and other pets. Although it moves at a slower pace, they do require mild daily exercise. They love to sniff and trail when going on walks. When trailing, they tend to let out a loud howl when excited. They do best as housedogs, but require access to the outdoors. While grooming is minimal, they do drool, and cleaning between facial folds is required on a regular basis. Singles, active individuals, city dwellers, and families would make great Basset Hound owners. They are easy to train, play well with others, and are very affectionate.
Breed Characteristics
Grooming requirements:
1 = little grooming - 5 = much grooming
Energy level:
1 = low energy - 5 = high energy
Friendliness toward strangers:
1 = shy - 5 = very friendly
Ease of training:
1 = difficult - 5 = easy
Affection toward owners:
1 = independent - 5 = very affectionate
Breed Details & Traits
Height: Preferably not over 14"
Weight: 40-60 lb
Lifespan: 8-12 years
Breed Traits
Calm, Easygoing, Scenthound,
Similar Breeds
Basset Hound
Basset Hound Discussions
Share your thoughts and experiences, ask questions, or just show your love for the Basset Hound breed here!
Pet Health Information

Helpful Links
Articles and Resources