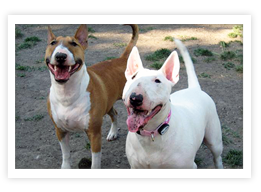 Bull Terrier
This dog is playful yet stubborn. It is affectionate and devoted but may be wary towards other animals and should be socialized from an early age.
Breed Overview
This goofy little bully originated in England in the 1800s. This comedic dog has been known to get along famously with people and more recently the breed became bred for appearance and shows. This high-energy terrier is sweet, gentle, playful, and silly thus doing famously with children and makes a great family pet. They should not be left alone for long bouts of time as these social creatures need lots of love and attention. Their exercise requirements are a good exercise session and mental stimulation, but can easily adjust to apartment living. This sturdy dog also makes a good hiking and jogging buddy. Grooming is minimal, only requiring brushing about every week.
Breed Characteristics
Grooming requirements:
1 = little grooming - 5 = much grooming
Energy level:
1 = low energy - 5 = high energy
Friendliness toward strangers:
1 = shy - 5 = very friendly
Ease of training:
1 = difficult - 5 = easy
Affection toward owners:
1 = independent - 5 = very affectionate
Breed Details & Traits
Height: 21-22"
Weight: Male: 60-70lb; Female: 50-60 lb
Lifespan: 11-14 years
Breed Traits
Comical, Mischievous, Playful,
Similar Breeds
Bull Terrier
Bull Terrier Discussions
Share your thoughts and experiences, ask questions, or just show your love for the Bull Terrier breed here!
Pet Health Information

Helpful Links
Articles and Resources