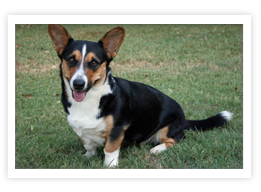 Cardigan Welsh Corgi
This agile and tireless dog is well mannered. It is reserved with strangers and tends to bark.
Breed Overview
This cattle drover originates from the British Isle of Wales, dating back to ancient times. They are fun loving, devoted, tireless, agile, and easy-going companions.  They do have a tendency to bark but can be trained to be well mannered. The may be scrappy towards other dogs, however training them is relatively simple. They make excellent watchdogs, provide protection, and grooming is very minimal by brushing once per week.  Ideal companions for them are active singles, outdoor lovers, and families. They enjoy a moderate daily walk or a challenging play session.
Breed Characteristics
Grooming requirements:
1 = little grooming - 5 = much grooming
Energy level:
1 = low energy - 5 = high energy
Friendliness toward strangers:
1 = shy - 5 = very friendly
Ease of training:
1 = difficult - 5 = easy
Affection toward owners:
1 = independent - 5 = very affectionate
Breed Details & Traits
Height: 10.5-12.5"
Weight: Male: 30-38 lb; Female: 25-34 lb
Lifespan: 12-14 years
Breed Traits
Amusing, Easygoing, Herding group,
Similar Breeds
Cardigan Welsh Corgi
Cardigan Welsh Corgi Discussions
Share your thoughts and experiences, ask questions, or just show your love for the Cardigan Welsh Corgi breed here!
Pet Health Information

Helpful Links
Articles and Resources