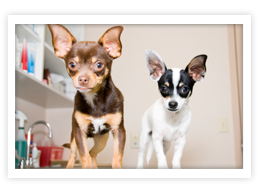 Chihuahua
This dog is devoted to its owner. Some are bold and others are timid. Some bark.
Breed Overview
Originating in Mexico in the 1500s, these small dogs were used for ceremonies and companionship. They are the smallest breed of dogs and have intense devotion to their owners. They are good with other household pets but may be reserved towards strangers. They are fantastic watchdogs but are not very effective at being protectors. Some bark, some are temperamental, and others may be timid. Being such lively dogs, they need daily exercise by either running around indoors or exploring the yard. They are not very good outdoor dogs and prefer the warmth of the indoors. They are excellent companions for seniors, singles, and those who are housebound or live in apartments. Grooming care is minimal but would be beneficial to brush long-haired coats several times per week.
Breed Characteristics
Grooming requirements:
1 = little grooming - 5 = much grooming
Energy level:
1 = low energy - 5 = high energy
Friendliness toward strangers:
1 = shy - 5 = very friendly
Ease of training:
1 = difficult - 5 = easy
Affection toward owners:
1 = independent - 5 = very affectionate
Breed Details & Traits
Height: 6-9"
Weight: not to exceed 6 lb
Lifespan: 14-18 years
Breed Traits
Companionate , Lively, Playful,
Similar Breeds
Chihuahua
Chihuahua Discussions
Share your thoughts and experiences, ask questions, or just show your love for the Chihuahua breed here!
Pet Health Information

Helpful Links
Articles and Resources