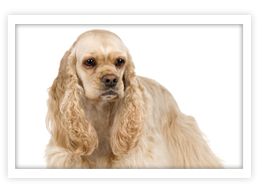 Cocker Spaniel
This dog gets along with just about anyone. Some may bark a lot. It can adapt to city living with proper exercise.
Breed Overview
This American breed originated in the 1800s from the English Cocker Spaniel. Their main functions were bird flushing and retrieving. They are very merry, playful, cheerful, and sweet, always willing to please. They are responsive to their owners and enjoy outdoor adventures that may allow them to use their natural hunting instincts. They enjoy daily exercise such as long walks on a leash. Cocker Spaniels are great companions for singles, families, seniors, and those who may live in an apartment or are active. Although their hair may be clipped shorter, they do require a good amount of grooming. Brushing needs to take place two to three times per week in addition to clipping monthly.
Breed Characteristics
Grooming requirements:
1 = little grooming - 5 = much grooming
Energy level:
1 = low energy - 5 = high energy
Friendliness toward strangers:
1 = shy - 5 = very friendly
Ease of training:
1 = difficult - 5 = easy
Affection toward owners:
1 = independent - 5 = very affectionate
Breed Details & Traits
Height: Male: 14.5-15.5"; Female: 13.5-14.5"
Weight: 24-28lb
Lifespan: 12-15 years
Breed Traits
Friendly, Playful, Sporting group,
Similar Breeds
Cocker Spaniel
Cocker Spaniel Discussions
Share your thoughts and experiences, ask questions, or just show your love for the Cocker Spaniel breed here!
Pet Health Information

Helpful Links
Articles and Resources