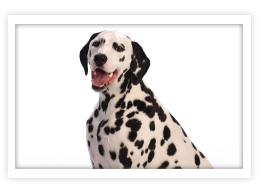 Dalmatian
This dog loves to run and does well with other pets. It can be too boisterous for small children. They need plenty of exercise and training.
Breed Overview
This dog breed originated in Dalmatia, a region of Croatia as a carriage dog. Today, they are companion pets and are full of energy and enthusiasm. Of course, they can also be found in firehouses too! Dalmatians were bred to run for miles and are eager for companionship. They make good watchdogs and guard dogs, and behave well at home. It may not get along well with unfamiliar dogs but enjoys being around other house pets and horses. Dalmatians may be too energetic for families with smaller children. Exercise-wise, they require more than just a short walk. These energetic dogs need vigorous games or long runs. Active individuals, families with older children, and firemen make ideal owners. Minimal grooming care is required with just a simple brushing to remove dead hair.
Breed Characteristics
Grooming requirements:
1 = little grooming - 5 = much grooming
Energy level:
1 = low energy - 5 = high energy
Friendliness toward strangers:
1 = shy - 5 = very friendly
Ease of training:
1 = difficult - 5 = easy
Affection toward owners:
1 = independent - 5 = very affectionate
Breed Details & Traits
Height: 19-23"
Weight: 40-60 lb
Lifespan: 12-14 years
Breed Traits
Energetic, Playful, Stubborn,
Similar Breeds
Dalmatian
Dalmatian Discussions
Share your thoughts and experiences, ask questions, or just show your love for the Dalmatian breed here!
Pet Health Information

Helpful Links
Articles and Resources