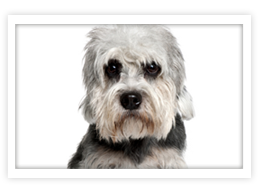 Dandie Dinmont Terrier
This dog likes to play and hunt. It is independent and reserved with strangers. Some dig.
Breed Overview
This otter and badger hunting Terrier originated from the border of Scotland and England in the 1700s. They were mainly owned by farmers and gypsies and were valuable otter, badger, and fox hunters. These loyal and affectionate companions are great watchdogs but are not very protective.  They are intelligent, independent, and are reserved towards strangers. They may have a tendency to be diggers and may not get on well with strange dogs. With plenty of socialization, this dog can do just fine at the dog park. To stay in shape, these Terriers should be taken on daily moderate walks. Seniors, active singles, and families with older children are excellent companions for these Terriers. Biweekly combing of their coat is necessary, as well as regular scissoring and shaping.
Breed Characteristics
Grooming requirements:
1 = little grooming - 5 = much grooming
Energy level:
1 = low energy - 5 = high energy
Friendliness toward strangers:
1 = shy - 5 = very friendly
Ease of training:
1 = difficult - 5 = easy
Affection toward owners:
1 = independent - 5 = very affectionate
Breed Details & Traits
Height: 8-11"
Weight: 18-24 lb
Lifespan: 11-13 years
Breed Traits
Companionate , Independent, Intelligent,
Similar Breeds
Dandie Dinmont Terrier
Dandie Dinmont Terrier Discussions
Share your thoughts and experiences, ask questions, or just show your love for the Dandie Dinmont Terrier breed here!
Pet Health Information

Helpful Links
Articles and Resources