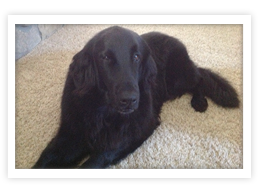 Flat Coated Retriever
This dog is an intelligent, quick learner and affectionate toward its owners. It gets along well with other pets making it a great family pet.
Breed Overview
These water-loving retrievers originated in England around the 19th century. They were bred to aid hunters in retrieving fish and objects from the water. These happy, loyal companions make a great sporting dog. The Flat-Coated Retriever is outgoing, active, sweet, and lively. Though they are active and love to retrieve outdoors, they are quiet and willingly cuddle indoors. They are very sensitive and easy to train and get along well with children. Daily exercise requirements for these gentle dogs is play time or a long walk, and they love the occasional chance to swim. Flat-Coated Retrievers are good pets for active people, hikers, joggers, and families. Grooming requires weekly brushing.
Breed Characteristics
Grooming requirements:
1 = little grooming - 5 = much grooming
Energy level:
1 = low energy - 5 = high energy
Friendliness toward strangers:
1 = shy - 5 = very friendly
Ease of training:
1 = difficult - 5 = easy
Affection toward owners:
1 = independent - 5 = very affectionate
Breed Details & Traits
Height: Male: 23-24.5"; Female: 22-23.5"
Weight: 60-70 lb
Lifespan: 10-13 years
Breed Traits
Companionate , Devoted, Loves to retrieve, Quick Learner, Smart, Sporting group,
Similar Breeds
Flat Coated Retriever
Video not available at this time.
Flat Coated Retriever Discussions
Share your thoughts and experiences, ask questions, or just show your love for the Flat Coated Retriever breed here!
Pet Health Information

Helpful Links
Articles and Resources