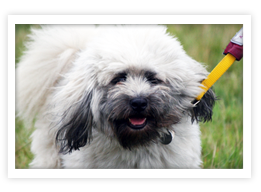 Lowchen
This dog makes a good family pet, being both playful and calm. It is devoted to its family but some bark and dig a lot.
Breed Overview
These small dogs share common roots with the Bichon breeds and originated somewhere in France or Germany. They are happy and playful but also calm and make great lap dogs. Lowchens are also curious and alert and some have tendencies to bark or dig. They are affectionate and make great pets for families as well as retirees and those who live in the city. They only need a quick walk or playtime each day. Grooming requirements are combing a few times per week and trimming every few months.
Breed Characteristics
Grooming requirements:
1 = little grooming - 5 = much grooming
Energy level:
1 = low energy - 5 = high energy
Friendliness toward strangers:
1 = shy - 5 = very friendly
Ease of training:
1 = difficult - 5 = easy
Affection toward owners:
1 = independent - 5 = very affectionate
Breed Details & Traits
Height: 12-14"
Weight: 8-18 lb
Lifespan: 13-15 years
Breed Traits
Affectionate, Inquisitive, Lively,
Similar Breeds
Lowchen
Video not available at this time.
Lowchen Discussions
Share your thoughts and experiences, ask questions, or just show your love for the Lowchen breed here!
Pet Health Information

Helpful Links
Articles and Resources