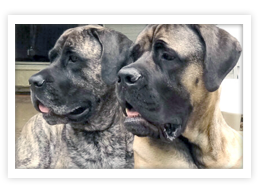 Mastiff
This dog gets along well with children and is very calm and well-mannered. It needs plenty of living space to stretch out.
Breed Overview
These gentle giants originated in England during the ancient times. They were used as guard dogs and even today, they are excellent guarding companions. They are easy going, calm, good natured, courageous, loving, dependable, and sweet. They are extremely loyal and excellent with children. They can live outdoors, but to be the loyal guard dogs that they are, living indoors is recommended. They enjoy a good game or a long walk every day for exercise and are ideal for singles, families with older children, and outdoor enthusiasts. Grooming their coats requires minimal care.
Breed Characteristics
Grooming requirements:
1 = little grooming - 5 = much grooming
Energy level:
1 = low energy - 5 = high energy
Friendliness toward strangers:
1 = shy - 5 = very friendly
Ease of training:
1 = difficult - 5 = easy
Affection toward owners:
1 = independent - 5 = very affectionate
Breed Details & Traits
Height: Male: min. 30"; Female: min. 27.5"
Weight: 175-190 lb
Lifespan: 9-11 years
Breed Traits
Easygoing, Gentle, Working group,
Similar Breeds
Mastiff
Mastiff Discussions
Share your thoughts and experiences, ask questions, or just show your love for the Mastiff breed here!
Pet Health Information

Helpful Links
Articles and Resources