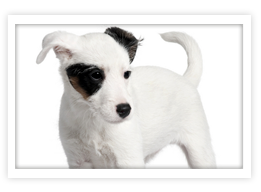 Parson Russell Terrier
This dog loves to hunt , chase, and dig. It does well with children and strangers but may tend to bark.
Breed Overview
This breed was developed in England to hunt foxes and also be able to keep up with horses. These little dogs are friendly, bold, and intelligent yet independent. They are full of energy, loving to explore, chase, and dig. They are outgoing and get along well with children, but may bark at strangers. They make good pets for active people and experienced dog handlers. Parson Russell Terriers need plenty of daily exercise such as a long walk or engaging game. Grooming these dogs is minimal, only requiring occasional brushing to remove dead hair.
Breed Characteristics
Grooming requirements:
1 = little grooming - 5 = much grooming
Energy level:
1 = low energy - 5 = high energy
Friendliness toward strangers:
1 = shy - 5 = very friendly
Ease of training:
1 = difficult - 5 = easy
Affection toward owners:
1 = independent - 5 = very affectionate
Breed Details & Traits
Height: 12-14"
Weight: 14-18 lb
Lifespan: 15 years or more
Breed Traits
Adventurous, Entertaining, Mischievous,
Similar Breeds
Parson Russell Terrier
Video not available at this time.
Parson Russell Terrier Discussions
Share your thoughts and experiences, ask questions, or just show your love for the Parson Russell Terrier breed here!
Pet Health Information

Helpful Links
Articles and Resources