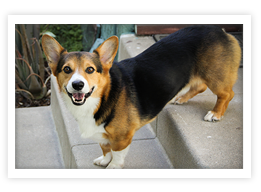 Pembroke Welsh Corgi
This companionable dog is great with children but may nip at heels. It is reserved with strangers and some tend to bark.
Breed Overview
Originating in Wales during the 1100s, this small farm helper was used as a cattle drover. They are outgoing, playful, active, quick-witted, loving, and companionable dogs. These devoted family members are very good with children and may be slightly reserved with strangers. Daily exercise, mental and physical is ideal for these big-eared little companions. A moderate walk or a good play session daily would suffice. Ideal human companions for the Corgi are singles, outdoor enthusiasts, ranchers, active individuals, and families. Coat care requires weekly brushing.
Breed Characteristics
Grooming requirements:
1 = little grooming - 5 = much grooming
Energy level:
1 = low energy - 5 = high energy
Friendliness toward strangers:
1 = shy - 5 = very friendly
Ease of training:
1 = difficult - 5 = easy
Affection toward owners:
1 = independent - 5 = very affectionate
Breed Details & Traits
Height: 10-12"
Weight: Male: 27 lb; Female: 25 lb
Lifespan: 11-13 years
Breed Traits
Active, Herding group, Loving,
Similar Breeds
Pembroke Welsh Corgi
Pembroke Welsh Corgi Discussions
Share your thoughts and experiences, ask questions, or just show your love for the Pembroke Welsh Corgi breed here!
Pet Health Information

Helpful Links
Articles and Resources