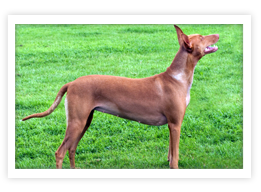 Pharaoh Hound
This dog loves to chase and run but is calm indoors. It is good with children and dogs but reserved and timid with strangers.
Breed Overview
These handsome and sleek hounds originated in the island of Malta during ancient times. Their main jobs were to hunt rabbits, while today, they function as lure coursers. They are loving, gentle, sensitive, great with children and other dogs, however they may chase some unfamiliar animals.  Some may be timid around strangers. They are calm indoors but love to run once they are outside. They are very fast and graceful. Daily exercise in the form of a long walk or a run is ideal for these hounds. They make excellent companions for outdoor enthusiasts, active single, families with older children, and experienced dog handlers. Coat care is very minimal, except occasional brushing to remove dead hair.
Breed Characteristics
Grooming requirements:
1 = little grooming - 5 = much grooming
Energy level:
1 = low energy - 5 = high energy
Friendliness toward strangers:
1 = shy - 5 = very friendly
Ease of training:
1 = difficult - 5 = easy
Affection toward owners:
1 = independent - 5 = very affectionate
Breed Details & Traits
Height: Male: 23-25"; Female: 21-24"
Weight: 45-55 lb
Lifespan: 11-14 years
Breed Traits
Calm, Gentle, Sensitive, Sighthound,
Health Concerns
The Pharaoh Hound has no common health concerns.
Common Health Concerns for Pharaoh Hound:
Less Common Concerns for Pharaoh Hound:
Return to Trupanion Pet Health Guide
Similar Breeds
Pharaoh Hound
Video not available at this time.
Pharaoh Hound Discussions
Share your thoughts and experiences, ask questions, or just show your love for the Pharaoh Hound breed here!
Pet Health Information

Helpful Links
Articles and Resources