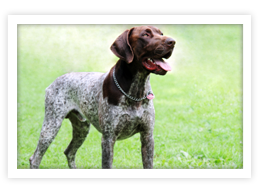 German Shorthaired Pointer
This dog is loyal and athletic and is happiest in an active lifestyle. They do best with an authoritative figure and a structured lifestyle.
Breed Overview
Originating in Germany during the 1600s, this pointing and hunting dog is one of the most versatile of all hunting breeds. They are pointers, retrievers, trailers, and even have the abilities to capture the game. They are intelligent, eager to please, friendly, loyal, outgoing, and dependable dogs. These hard workers require daily exercise, both mental and physical. They are energetic and require at least an hour of exercise every day or they may become frustrated. They are ideal dogs for active singles, families with older children, suburban dwellers, and outdoor enthusiasts. Grooming needs are minimal so an occasional brushing to remove dead hair is beneficial.
Breed Characteristics
Grooming requirements:
1 = little grooming - 5 = much grooming
Energy level:
1 = low energy - 5 = high energy
Friendliness toward strangers:
1 = shy - 5 = very friendly
Ease of training:
1 = difficult - 5 = easy
Affection toward owners:
1 = independent - 5 = very affectionate
Breed Details & Traits
Height: Male: 23-25"; Female: 21-23"
Weight: Male: 55-70 lb; Female: 45-60 lb
Lifespan: 12-14 years
Breed Traits
Active, Energetic, Sensitive, Sporting group,
Similar Breeds
German Shorthaired Pointer
Video not available at this time.
German Shorthaired Pointer Discussions
Share your thoughts and experiences, ask questions, or just show your love for the German Shorthaired Pointer breed here!
Pet Health Information

Helpful Links
Articles and Resources