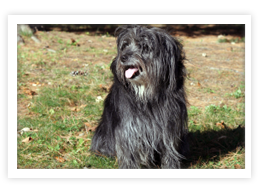 Pyrenean Shepherd
This dog is active and needs plenty of exercise. It does well with other dogs and pets but may be wary of strangers.
Breed Overview
The Pyrenean Shepherd has ancient origins but is believed to have originated in France. Their only duty was herding and they would work as a team with Great Pyrenees dogs who acted as protectors. Pyrenean Shepherds were also used during the second World War as alert dogs and search and rescue dogs. These dogs are alert and energetic and love to be part of the action. They are very obedient and easy to train. These shepherds get along well with other pets but may be wary of strangers. They need plenty of exercise to stay content, such as a long walk and vigorous play each day. Their coats need brushing about once a week.
Breed Characteristics
Grooming requirements:
1 = little grooming - 5 = much grooming
Energy level:
1 = low energy - 5 = high energy
Friendliness toward strangers:
1 = shy - 5 = very friendly
Ease of training:
1 = difficult - 5 = easy
Affection toward owners:
1 = independent - 5 = very affectionate
Breed Details & Traits
Height: Male: 15.5-22"; Female: 15-20"
Weight: over 100 lb
Lifespan: 9-15 years
Breed Traits
Energetic, Herding group, Obedient,
Similar Breeds
Pyrenean Shepherd
Video not available at this time.
Pyrenean Shepherd Discussions
Share your thoughts and experiences, ask questions, or just show your love for the Pyrenean Shepherd breed here!
Pet Health Information

Helpful Links
Articles and Resources