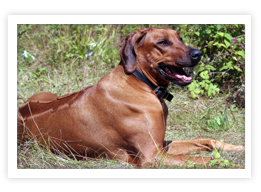 Rhodesian Ridgeback
This dog is loyal and a good hunter and may be protective of its family. It is powerful and some are domineering.
Breed Overview
These dogs are named after their unique coat in which there is a ridge of hair on their back that grows the opposite direction. They were developed in South Africa to be used as lion hunters because they performed well in the heat of the day as well as the cool, damp nights. These gentle dogs are relatively calm around the home after they have outgrown their puppy phase and are generally very quiet. They are strong, intelligent, and protective. They are somewhat reserved with strangers. These dogs make excellent pets for joggers or active people as they can easily keep up. They require a long walk or jog each day to satisfy their exercise needs. Their short coat requires minimal care, just occasional brushing.
Breed Characteristics
Grooming requirements:
1 = little grooming - 5 = much grooming
Energy level:
1 = low energy - 5 = high energy
Friendliness toward strangers:
1 = shy - 5 = very friendly
Ease of training:
1 = difficult - 5 = easy
Affection toward owners:
1 = independent - 5 = very affectionate
Breed Details & Traits
Height: Male: 25-27"; Female: 24-26"
Weight: Male: 85 lb; Female: 70 lb
Lifespan: 10-12 years
Breed Traits
Companionate , Powerful, Scenthound, Sighthound,
Similar Breeds
Rhodesian Ridgeback
Rhodesian Ridgeback Discussions
Share your thoughts and experiences, ask questions, or just show your love for the Rhodesian Ridgeback breed here!
Pet Health Information

Helpful Links
Articles and Resources