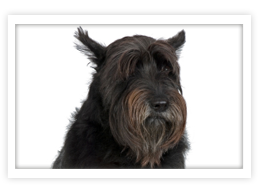 Giant Schnauzer
This playful dog is good with family but reserved with strangers and has great watchdog ability. It may be reserved with other dogs.
Breed Overview
These cattle herding and guard dogs originated during the middle ages in Germany. Today, they are mainly used for security and police jobs. They are full of energy, are very playful, bold, protective, and intelligent. They are great with children, however they may be too rough for smaller children. They are excellent guard dogs and protect their families and may be reserved towards strangers. They may not get along with other dogs, but if socialized from an early age, they will do fine at the dog park. Being as playful and energetic as they are, they require daily exercise full of vigorous games or long walks.  They are ideal companions for those who are active, have families with older children, and are experienced dog handlers. Their coats require combing one to two times per week, and shaping four times per year.
Breed Characteristics
Grooming requirements:
1 = little grooming - 5 = much grooming
Energy level:
1 = low energy - 5 = high energy
Friendliness toward strangers:
1 = shy - 5 = very friendly
Ease of training:
1 = difficult - 5 = easy
Affection toward owners:
1 = independent - 5 = very affectionate
Breed Details & Traits
Height: Male: 26-28"; Female: 23-26"
Weight: Male: 60-80 lb; Female: 55-75 lb
Lifespan: 12-15 years
Breed Traits
Rambunctious, Watchdog, Working group,
Similar Breeds
Giant Schnauzer
Video not available at this time.
Giant Schnauzer Discussions
Share your thoughts and experiences, ask questions, or just show your love for the Giant Schnauzer breed here!
Pet Health Information

Helpful Links
Articles and Resources