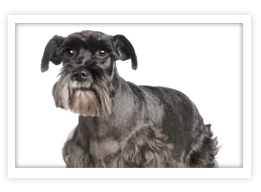 Standard Schnauzer
This dog, without strong leadership, can be stubborn, mischievous and headstrong. It is fun-loving and lively.
Breed Overview
Originating in the 14th century in Germany, these dogs were loved as pets and hunting companions. They are fun-loving, affectionate, bold, and alert. These watchful dogs are reserved with strangers but make good watchdogs. They can be playful and patient but also mischievous. These high energy dogs need plenty of exercise such as a long walk or vigorous play daily. In that respect, they make a good pet for outdoorsy people and farmers but are also a good family pet. Their coat needs to be combed about twice per week and trimmed every once in a while.
Breed Characteristics
Grooming requirements:
1 = little grooming - 5 = much grooming
Energy level:
1 = low energy - 5 = high energy
Friendliness toward strangers:
1 = shy - 5 = very friendly
Ease of training:
1 = difficult - 5 = easy
Affection toward owners:
1 = independent - 5 = very affectionate
Breed Details & Traits
Height: Male: 18-20"; Female: 17-19"
Weight: Male: 30-45 lb; Female: 30-40 lb
Lifespan: about 15 years, or more
Breed Traits
Bold, Lively, Protective, Working group,
Similar Breeds
Standard Schnauzer
Video not available at this time.
Standard Schnauzer Discussions
Share your thoughts and experiences, ask questions, or just show your love for the Standard Schnauzer breed here!
Pet Health Information

Helpful Links
Articles and Resources