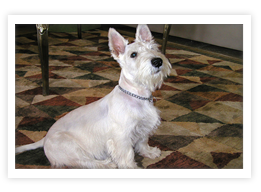 Scottish Terrier
This dog is fearless and may need extra socialization to get along with strange dogs. It is friendly and devoted to family. They tend to dig and bark.
Breed Overview
Originating in Scotland during the 1800s, these terriers were used for vermin hunting and earth dog trials. Always on the lookout for adventures, these dogs are friendly, active, loyal, stable, and protective. They are tough, smart, and devoted to their families. They may be reserved around strangers and some other dogs. They enjoy excitement and exercise daily, so a moderate walk, outdoor game, or safe unleashed exploration adventures are best for them. They are excellent for seniors, city dwellers, outdoor enthusiasts, and families. Their coats require combing two to three times per week and shaping every three months.
Breed Characteristics
Grooming requirements:
1 = little grooming - 5 = much grooming
Energy level:
1 = low energy - 5 = high energy
Friendliness toward strangers:
1 = shy - 5 = very friendly
Ease of training:
1 = difficult - 5 = easy
Affection toward owners:
1 = independent - 5 = very affectionate
Breed Details & Traits
Height: about 10"
Weight: Male: 19-22 lb; Female: 18-21 lb
Lifespan: 11-13 years
Breed Traits
Devoted, Feisty, Tough,
Similar Breeds
Scottish Terrier
Video not available at this time.
Scottish Terrier Discussions
Share your thoughts and experiences, ask questions, or just show your love for the Scottish Terrier breed here!
Pet Health Information

Helpful Links
Articles and Resources